Mealtimes are a very important part of the day. Here at Kingswood Court, we always want to ensure that everyone receives nutritionally balanced, tasty food and really enjoys their meals.
Our qualified and experienced Chef, Jeff, provides a great variety of appetising and well-presented home-cooked meals, using fresh ingredients. Our fruit, vegetables and meat are all locally sourced. The residents are invited to help plan the menu; after all it is their home. It encompasses a blend of traditional cooking with a few modern and ethnic dishes too. We are always happy to cater for special diets and personal preferences, and love nothing more than celebrating birthdays and other special occasions. Family parties can always be arranged. When weather permits, we enjoy a barbeque or buffet in the garden where staff, residents and their guests gather to enjoy a tasty social event.
For breakfast, residents have a choice of fruit, cereal, toast or a cooked breakfast, served with tea or coffee and fruit juice. At lunchtime, there's a three course meal with a choice of two hot dishes daily. And a light supper is served every evening. Throughout the day snacks and hot drinks are available, with home-baked cakes in the afternoon. Each Friday, residents enjoy a glass of sherry, and wine is available during the weekends. Most of our residents choose to eat their meals in the welcoming dining room, although for those who prefer to eat in their own room we're happy to accommodate this. And if anyone needs assistance with eating, we'll gladly help.
Sample Menu
Starter
Soup of the Day
or
Waldorf Salad
Main Course
Lancashire Hot Pot
or
Chicken Passanda with Pilau Rice
All Served with Seasonal Vegetables and Potato Selection
Dessert
Lemon Meringue Pie and Cream
or
Selection from Sweet Trolley
Afternoon Tea and Cake Suppers
Homemade Soup and Selection of Sandwiches
or
Jacket Potato with Choice of Filling
or
Homemade Scotch Egg with Seasonal Salad
Contact us today on 01737 830480 to discuss your situation - we are here to help you every step of the way. Alternatively, you can use the 'Contact Us' form to get in touch.
Exceptional Care
Kingswood Court Nursing Home
CQC Overall Rating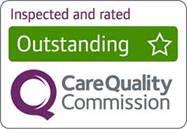 Latest CQC Review 3rd February 2021
See the report

chevron_right
CQC Rating distribution
Of 4,152 nursing homes inspected:


Outstanding 4%


Good 68%


Requires improvement 21%


Inadequate 2%

Recommendation
9.9
Out of a maximum possible score of 10
(as at January 2019)