Kingswood Court was designed in 1913 by Sir Ernest Newton in the Georgian style. The house was first occupied by Mr Benson, a West End Jeweller, who lived there with his family until the 1920s. After the death of his wife he sold the property to a developer who intended it to be a school, but this plan fell through and it passed to an American who ran it as a hotel/spa.
At the outbreak of WWII it was bought by Surrey County Council and became one of the first old people's homes run by Social Services. In the 1990s, the house was sold by the council, passing into private management.
In February 2018 Kingswood Court was passed to its current owners, Campbell and Emily Lyle. Campbell and Emily run a small, family owned group of award winning care homes across Sussex and Surrey.
Contact us today on 01737 830480 to discuss your situation - we are here to help you every step of the way. Alternatively, you can use the 'Contact Us' form to get in touch.
Exceptional Care
Kingswood Court Nursing Home
CQC Overall Rating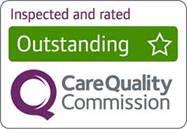 Latest CQC Review 3rd February 2021
See the report

chevron_right
CQC Rating distribution
Of 4,152 nursing homes inspected:


Outstanding 4%


Good 68%


Requires improvement 21%


Inadequate 2%

Recommendation
9.9
Out of a maximum possible score of 10
(as at January 2019)